TWO-TONE BLUE POCKET BIBLE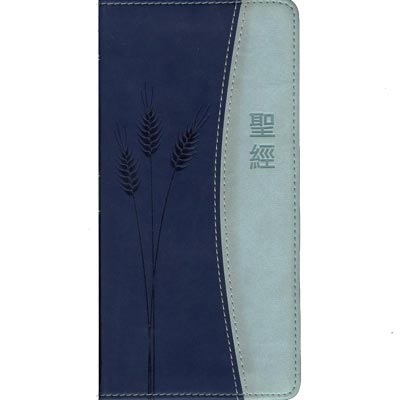 PRODUCT SUMMARY
Chinese Version — Union
Light blue ribbon bookmark
Traditional characters
2-tone blue cover made with plush polyurethane with very elegant design
For additional product information click here.
ISBN: 978-1-890610-10-4

Price: $19.99

A strikingly elegant blue duo tone pocket size bible designed to be carried around with you all day. Use it when you go to church, to work or to travel.

Small enough to easily fit into your hand bag or suit pocket; light enough to be put into your suitcase easily. Printed on beautiful high quality thin French paper.

Chinese characters are printed with high quallity Monotype Chinese fonts, thus are still relatively easy to read.

Duo tone blue cover makes for an beautiful and expensive look; great as a gift.



Product Information:
Color:

Dark blue and light blue stitched together with a crescent division

Bible Versions:

Classic Union version with modern punctuations - edited by HBH

Testaments:

Old and New Testaments

Format:

Modern horizontal left to right Chinese layout

Dimensions:

3.56" x 6.87" x 0.94" inches

Weight:

0 lbs 10 oz

Page Count:

1182 pages

Maps:

None

Tables of Wt and Measures:

None

Punctuation:

Modern punctuations for Chinese Bible - edited by Hymnody and Bible House

Price:

US $19.99

Description:

A strikingly elegant blue duo tone pocket size bible designed to be carried around with you all day. Use it when you go to church, to work or to travel.

Small enough to easily fit into your hand bag or suit pocket; light enough to be put into your suitcase easily. Printed on beautiful high quality thin French paper.

Chinese characters are printed with high quallity Monotype Chinese fonts, thus are still relatively easy to read.

Duo tone blue cover makes for an beautiful and expensive look; great as a gift.

Chinese Characters:

Traditional characters best for Chinese from Hong Kong, Taiwan and North America. Mainland Chinese may prefer Simplified characters.

Special Features:

Strikingly beautiful stylish plush cover made with the latest bible cover material - polyurethane

Accessories:

Elegant blue ribbon bookmark

Cover:

2-tone blue cover made with plush polyurethane with very elegant design

ISBN:

978-1-890610-10-4